2020 has been a difficult year for many of us—there's no doubt about that—but there were a lot of good times too. After all, 2020 showed us resilience and perseverance, more time at home for reflection and self-care, and more ways than we ever thought possible to connect through technology.
Here at Stridekick, we wanted to highlight just a few of the many accomplishments that have been achieved on the app this year as we say goodbye to 2020! We hope you enjoy a look back on the achievements we've made together this year.
Our Year in Review
Activity Stats
2020 was a tough year, but that didn't stop us from reaching our activity goals. We collectively synced over 162 billion steps, 73 million miles, and 673 million active minutes this year. 🤯
On average, Stridekick users synced 7,639 steps, 3.43 miles, and 32 active minutes each day over the course of 2020.
We collectively synced the most steps 📈 on the following days:

Saturday, September 19, 2020 - 8,740 avg. steps/user
Saturday, June 13, 2020 - 8,709 avg. steps/user
Sunday, May 31, 2020 - 8,670 avg. steps/user
Saturday, November 7, 2020 - 8,668 avg. steps/user
Saturday, May 16, 2020 - 8,643 avg. steps/user

We collectively synced the least steps 📉 on the following days:

Monday, March 23, 2020 - 5,942 avg. steps/user
Tuesday, March 31, 2020 - 6,272 avg. steps/user
Sunday, April 12, 2020 - 6,300 avg. steps/user
Wednesday, January 1, 2020 - 6,324 avg. steps/user
Tuesday, March 24, 2020 - 6,372 avg. steps/user
Activity Insights
We know how to spend our Saturday's wisely! On average, Saturday was our most active day of week. In contrast, Sunday and Monday were our least active days of the week. 😴
February was a busy month! We averaged our highest steps/day in February. 💖
Check out the chart below to see average steps/day by month for all Stridekick users this year:

Challenge Stats
2020 didn't keep us from pushing ourselves through challenges. We collectively made over 107,794 user-created challenges in 2020!
Out of this year's user-created challenges, the most popular mode was Leaderboard, which made up 74% of all user-created challenges. 🏅
After Leaderboard, 17,604 user-created challenges were Target challenges (16.3%), and 10,543 were Streak challenges (9.8%).
Engagement Stats
We're a friendly bunch—over 400,000 friendships were made this year on the app, over 580,000 chat messages and photos were shared in chat, and over 67,000 chat reactions were posted. 💬
We also like to achieve our goals—2.8 millions badges were earned this year by all Stridekick members. 🏆
Community Challenges & Highlights
In addition to activity and engagement stats, we also hosted a variety of community challenges this year! Thanks to everyone who joined us for a community challenge.
The most popular community challenges this year were:
🍁 WALK-tober - 4,021 participants (958,661,680 steps)
🍂 MOVE-vember - 2,818 participants (648,130,702 steps)
STEP-tember 👣 - 2,698 participants (650,983,871 steps)
❄️ DASH-cember - 2,567 participants (587,653,055 steps)
Spread Wellness. Not Germs. - 2,088 participants (317,390,802 steps)
We also wanted to highlight some of our favorite community challenges from the past year. Here's a look back at a few of our 2020 challenges on Stridekick:
March Madness Tournament | March 9 - April 17, 2020
In March and April, we hosted our version of a knock-out style March Madness tournament. We had originally planned to base our 16 teams off of the NCAA March Madness Tournament Sweet 16, but since that tournament was cancelled due to COVID-19, we ended up asking our community for help with choosing the teams instead. Thanks to everyone who submitted team ideas!
To secure a spot on one of our Sweet 16 teams, participants first had to maintain a step average of 5k steps/day over the first week of the challenge period (March 9th-15th). All participants who met that requirement were assigned to one of 16 teams on March 20. All of our 16 teams put up a good fight, but in the end, Team UC Riverside Highlanders was declared Stridekick's March Madness 2020 Champion.
Stridekick Steps for EMS Workers | May 17-23, 2020
For National EMS Week, we hosted a challenge to step in honor of paramedics, first responders, and frontline workers. In the challenge chat, we heard from many participants who were stepping to show their appreciation for their close friends and family members who were bravely fighting on the frontlines of the COVID-19 pandemic. We also saw photos shared in chat of DIY yard signs and messages written in chalk thanking all frontline workers for their hard work and bravery during such a difficult season.
We challenged our community to reach 25 million steps in just 1 week to show our support, and we ended up surpassing that goal by a long shot! In total, we stepped over 62 million steps in support of EMS workers that week.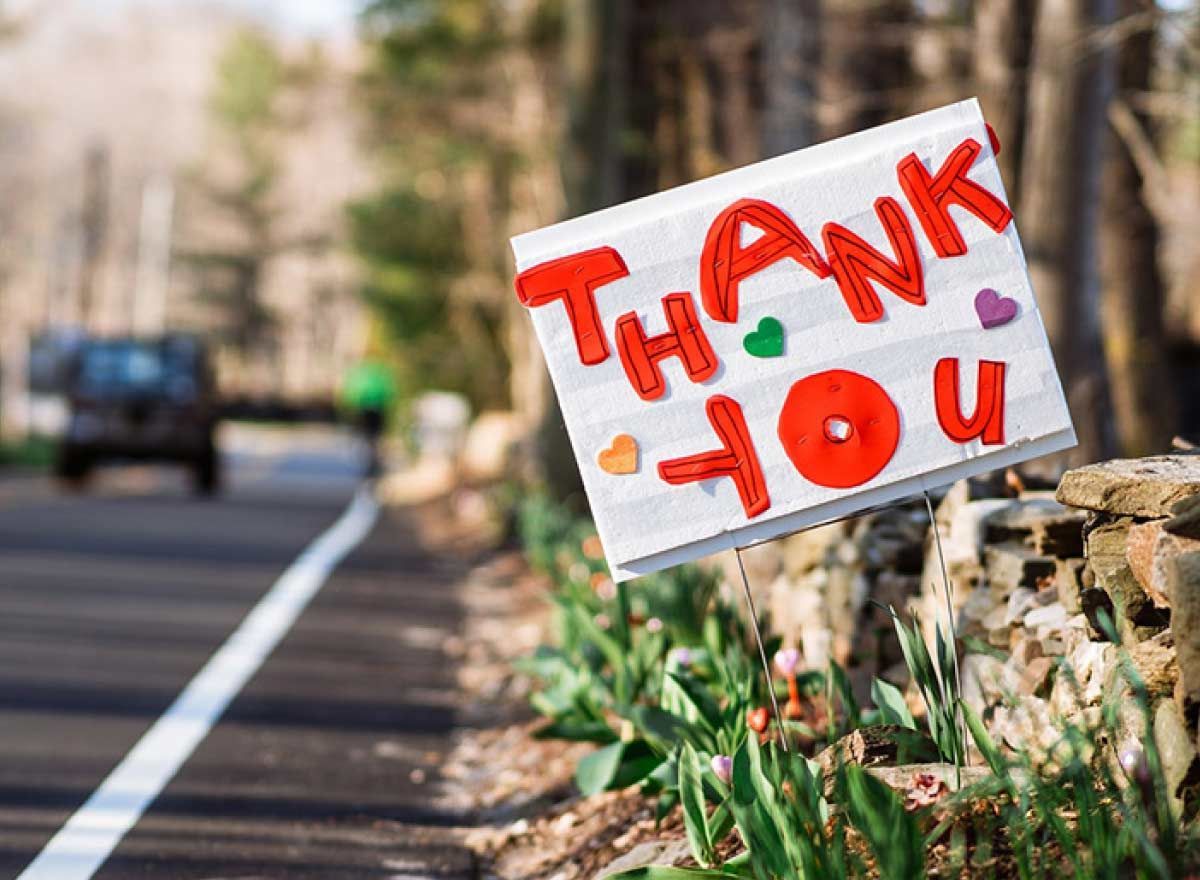 Picture Perfect Nature Walk! 📸 | June 1 - 30, 2020
When we were able to venture outside for a socially-distanced walk this year, we had to make sure to capture the moment. In this challenge, we asked participants to capture the beauty of their daily walks, runs, and hikes, and were amazed by all of the amazing photos that were shared in the challenge chat. From adorable turtles to breathtaking scenery, this challenge chat had it all!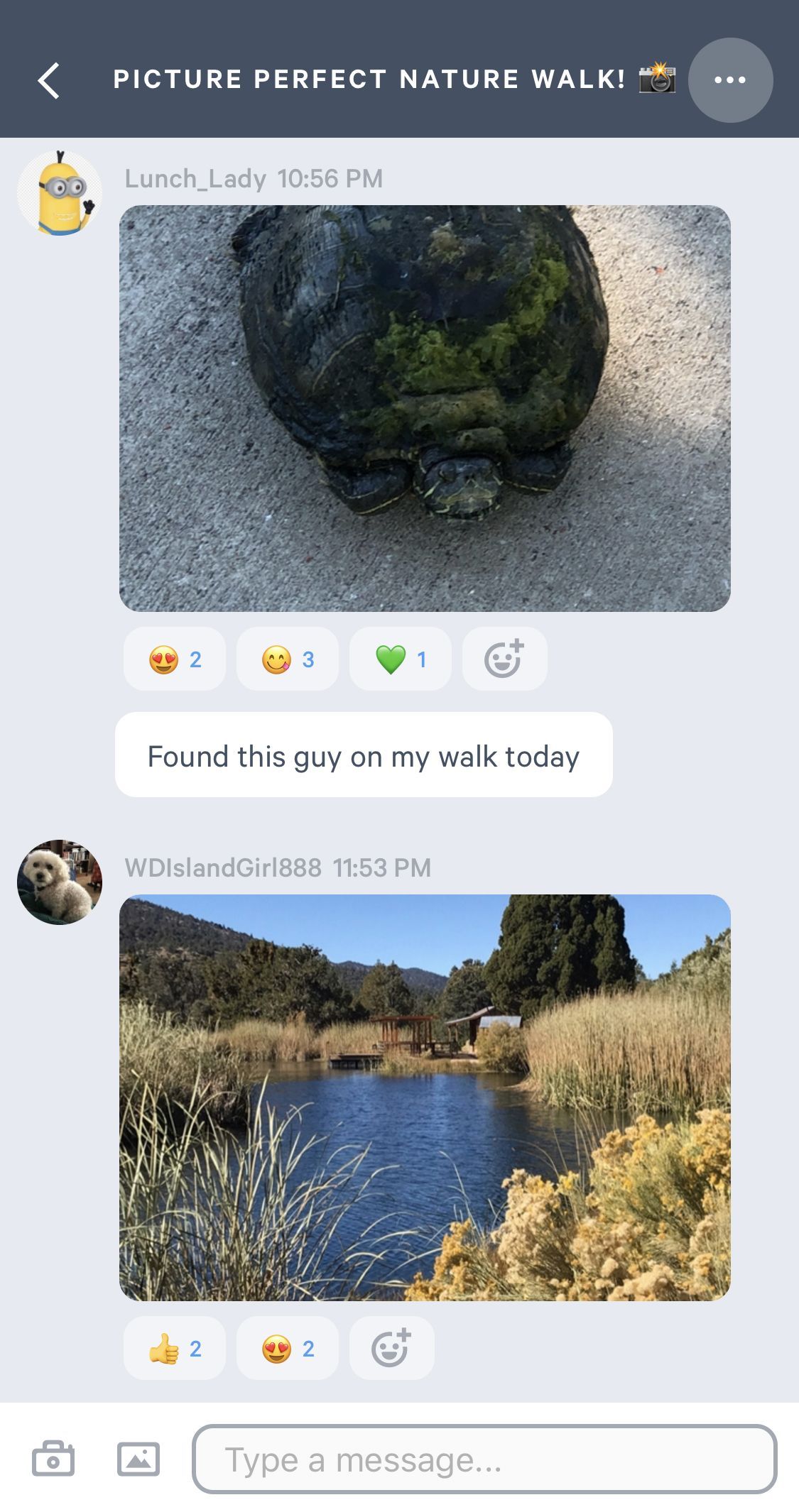 ✨ 14 Days of Gratitude | November 12 - 25, 2020
In November, we challenged the Stridekick community to 14 days of gratitude, and we were blown away by the response we had. Each day at 7am CST, we shared a new daily gratitude prompt to complete, such as Write down 3 things you're grateful for this morning or Recall a hard time and how you've grown from it.
Not only were participants engaging and completing each daily prompt, but the challenge chat and comments were flooded with amazing stories of gratitude, love, happiness, struggle, and triumph. In a year full of confusion and struggle, it was a beautiful reminder of resilience and perseverance. Thank you for sharing your gratitude with us.
STEP-tember, WALK-tober, MOVE-vember, and DASH-cember
This September, we decided to try out a monthly Target goal of 150,000 steps (5,000 steps per day on average) and call it STEP-tember. Before we knew it, the challenge had over 2,000 participants and counting, so we decided to keep it up through the rest of the year with WALK-tober, MOVE-vember, and DASH-cember.
Our favorite part of these challenges is always towards the end of the month when participants start to reach their Target goal and share their progress in the chat. And since this challenge has become so popular, we're keeping it around in January as well. Just look for January Target 🎯 from the Join button in the app!
Thanks for an amazing year, Stridekickers! Here's to 2021!