Connect a fitness tracker and compete in free step challenges on Stridekick
Play for free with friends and family. Or, run a step challenge for your organization on MoveSpring
Compete with family and friends
Get stepping for free!
3 challenge modes
Up to 10 people in a challenge
Challenges can last up to a month
Compete with others in community challenges
Run company step challenges
Pricing based on total users
9 challenge modes
Unlimited challenge participants
Challenges can last up to 90 days
Admin dashboard for reporting & user management
Dedicated support
Connect to a variety of fitness trackers
Stridekick connects to a variety of fitness trackers so you can compete with your friends no matter which device they use. Don't have a fitness tracker? No problem. Connect using your smartphone or enter your steps manually.




Connect Polar, Xiaomi, and more through iPhone and Android with Apple Health and Google Fit
Create your own step challenges
Choose from three challenge modes: Leaderboard, Streak, and Target. Invite up to nine other people for friendly competition.
Have more than 10 people? Check out MoveSpring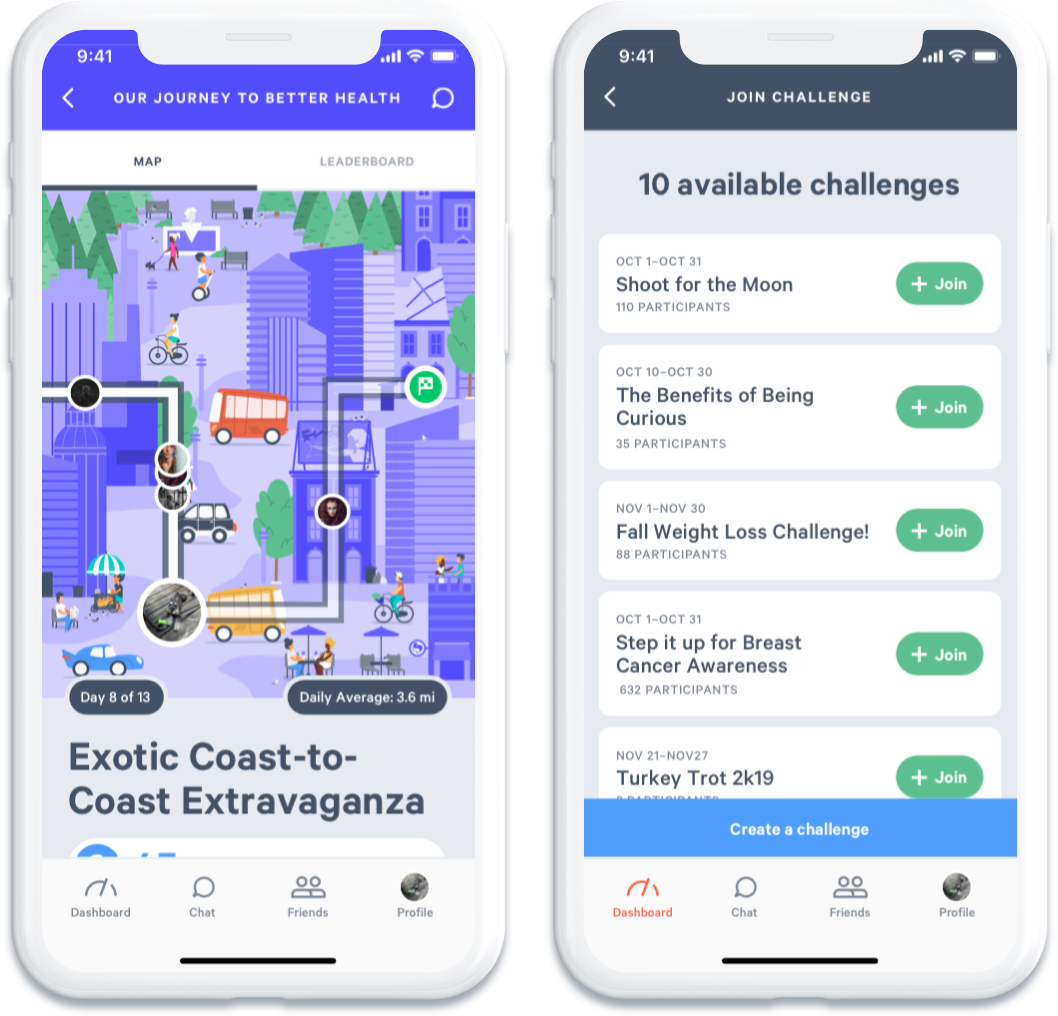 Join community step challenges
Join bigger community challenges with other steppers on the Stridekick platform. We're always adding new community challenges, so check back often!
Three challenge types, unlimited fun
Our three challenge types offer a variety of ways to compete. Whether you're seeking a highly competitive leaderboard, a daily activity goal, or a long-term step target, we've got you covered. Compete on steps or active minutes.
Looking for more challenge modes?
Check outfor team, group, and journey options.
A social community to keep you moving
Everything is more fun with others. Stay motivated with the community of Stridekick steppers. Add friends, send messages, and follow each other's activity stats.
Chat
Chat with others in your challenge to stay motivated.
Friends
Add friends and follow their daily activity stats.
Insights
Get an in-depth look at your and your friends' activity.
Step your way to fun with
Run step challenges for your organization
Make fitness fun at your company with MoveSpring step challenges. Upgrade to MoveSpring for nine challenge modes, customizable content, and an easy-to-use admin center. Download reports and track your group's progress over time. Option to purchase a subscription or a one-time challenge.
Join thousands of companies stepping strong on MoveSpring